Canal Street housing complex takes upscale turn (think $3K per month) near CBD, Mid-City
Saturday, 25 November 2017, 02:38:08 AM. Given the rash of new residential buildings recently finished or under way in downtown New Orleans, the sight of another apartment construction site may not seem noteworthy. But in light
Given the rash of new residential buildings recently finished or under way in downtown New Orleans, the sight of another apartment construction site may not seem noteworthy. But in light of its surroundings, the development now in progress at 1535 Canal St. is something of a head-turner.
The complex is taking shape on a full block that lies between the Central Business District and Mid-City, in an area that for decades developers regarded as a no-man's land. On this site, close to Claiborne Avenue and an elevated stretch of Interstate 10, Dallas-based Provident Realty Advisers Inc. is investing $60 million to build a nine-story, luxury apartment complex that will include 330 units, a parking garage and ground-floor retail space.
Setting this project apart is its demographic target. Unlike many neighboring developments that include affordable housing units designed for low-income residents, tenants of the Canal 1535 apartments will pay rents ranging as high as $3,000 a month, according to Matt Harris, Provident's managing director.
He said on-site features will include a central courtyard and pool; a fifth-floor deck overlooking both the courtyard and Canal Street; and a parking garage with an upper-level dog park.
+6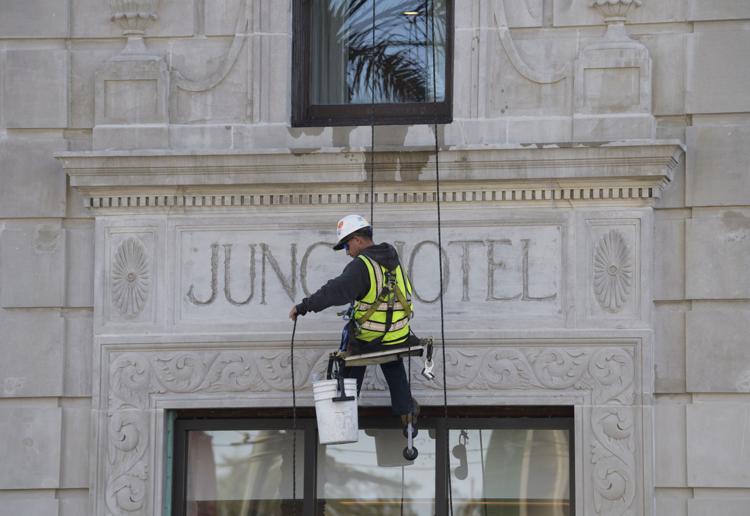 Buy Now
A window cleaner lowers himself down on Nov. 10 past the sign for the Jung Hotel, which will open this winter after undergoing a $140 million renovation. When open, the building will feature 113 one- and two-bedroom apartments, 207 guest rooms and retail space.
Advocate staff photo by MAX BECHERER
Provident Realty Advisers is not alone in venturing into local territory previously considered off limits. Extensive renovations are nearing completion just across Canal Street, where veteran hotel developer Joseph Jaeger Jr., CEO of The MCC Group, has put $140 million into a decades-old hotel, which soon will open as the Jung Hotel and Residences.
Jaeger stripped the interior of the original building down to its support beams to create 207 upscale guest rooms and 113 one- and two-bedroom luxury apartments. He demolished a smaller building in order to add a parking garage, and created rooftop entertainment areas with pools and a bar. The Jung's ground floor contains nearly 20,000 square feet of space for restaurants and future retail shops.
"The project is considerably more robust than simply a hotel," a spokesman for Jaeger said.
Meanwhile, a block up Canal, in the 13-story former ODECO building, which most recently housed the University of New Orleans Foundation, Texas-based developer NewcrestImage soon will open the dual-branded SpringHill and TownPlace Suites by Marriott.
Hotel General Manager Chris Anderson said SpringHill Suites, on the building's lower floors, will serve corporate and group travelers. TownPlace Suites, on floors seven through 13, will target extended-stay guests with apartment-like living spaces and full kitchens.
Anderson also hopes to tap into the increasingly popular rooftop bar scene. "I see our bar drawing a local crowd, particularly from the medical district, with great happy hours," he said.
+6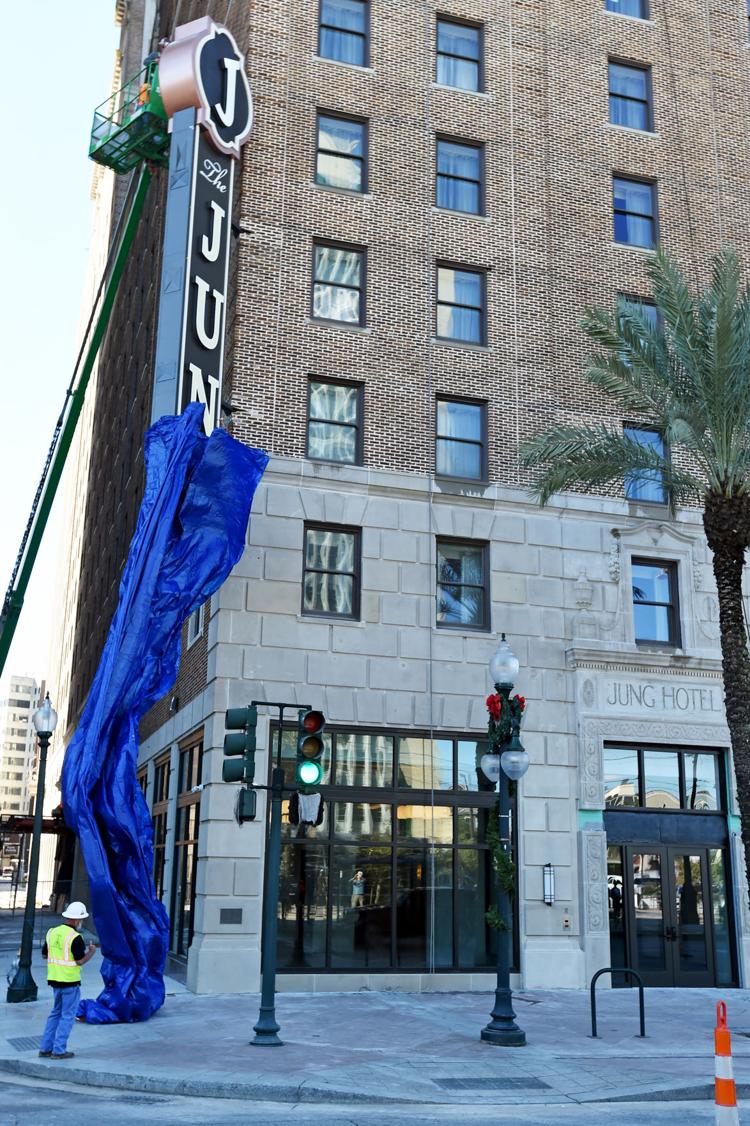 Buy Now
A tarp falls off of the recently installed sign at the Jung Hotel, which will open this winter after undergoing a $140 million renovation. When open, the building is will feature 113 apartments, 207 guest rooms and retail space.
Advocate staff photo by MAX BECHERER
The amount of investment that is pouring into the 1500 and 1600 blocks of Canal Street would have shocked city leaders even just a few years ago. That's because chronic building vacancies and deterioration in this area reach back some 30 years, when many local companies began relocating their business offices away from Canal Street and into new high-rise buildings that were sprouting a half-mile away along Poydras Street.
The westward shift of the city's main business corridor left empty buildings along Canal, and while many structures would be renovated into hotels and retail establishments, the blocks farthest away from the CBD and closest to Claiborne Avenue continued to struggle.
But optimism in the area finally is rising, thanks primarily to the opening of the massive new University and Veterans Administration medical centers in the heart of Mid-City. This new hub of health care jobs and the anticipation of increasing medical employment during the next few decades are powerful drivers for development in surrounding areas.
"What you're seeing play out in that area is just the kind of investment that we were trying to attract," said Kurt Weigle, president of the Downtown Development District, referring to long-term plans the agency laid out for Canal Street years ago.
Weigle said a new era is at hand for several city blocks that have resisted progress for decades. "I walked that portion of Canal Street 15 years ago," he said, "and when I walk it today, the feel is entirely different."
The DDD's pursuit of commercial development has paid off slowly. An initiative launched around 2005 created new "streetscapes" on the lower part of Canal Street, with tree plantings, new sidewalk pavers, and a general upgrading of the street scene.
Efforts to draw more upscale retailers have also started to gel, Weigle said. High-end denim retailer True Religion and professional makeup provider M•A•C, for instance, have moved into spaces on the ground level of the Astor Crown Plaza hotel at Canal and Bourbon streets.
Across the street, The Art of Shaving provides personal grooming services for men, and the upscale Brazilian steakhouse Fogo de Chao operates on the ground floor of the JW Marriott hotel.
"All of those have increased the quality of the retail experience in that part of Canal," Weigle said. "Now, at the upper end, we're creating a new experience."
Rejuvenation of some parts of Canal Street got a boost from funds that flowed in to help New Orleans recover from Hurricane Katrina. The renovation and reopening of the Saenger Theatre helped draw developers' attention to the area, as did private projects such as the redevelopment of the Krauss department store into upscale apartments, many of which now are being turned into condominiums.
Farther up the street, the New Orleans Bioinnovation Center opened in a sleek high-rise to support research into biomedical technologies.
+6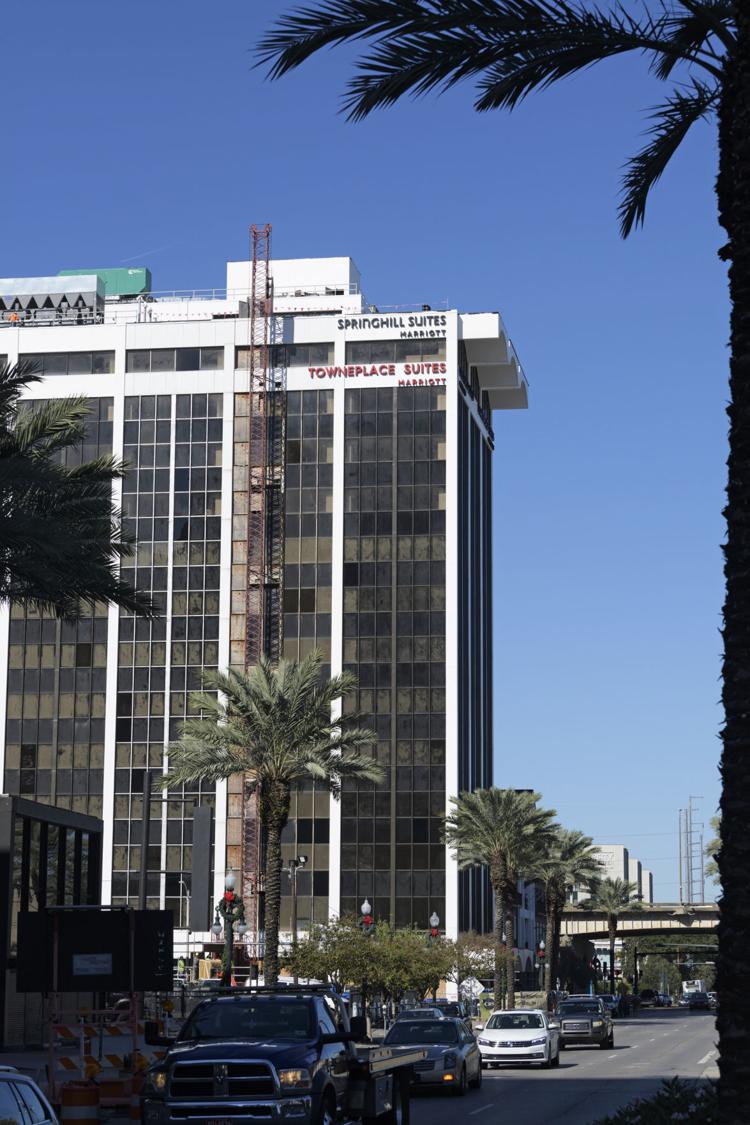 Buy Now
The former ODECO Building on Canal Street, pictured here on Nov. 10, is slated to open as a Springhill Suites/Townplace Suites.
Advocate staff photo by MAX BECHERER
Such efforts gained steam from the redevelopment of the former Iberville Housing Project, a sprawling complex of high-density apartment buildings in the Treme neighborhood that housed thousands of low-income residents. Most of the old Iberville buildings have been replaced with a mix of residences including apartments and townhomes for renters in a range of income levels. And part of that redevelopment included the conversion of the former Texaco office building on Canal Street into affordable apartments for elderly tenants.
These changes coincided with rapid growth in downtown living options that have added thousands of apartments and condominiums as many local residents began to show a preference for inner city homes. "We've got close to 7,000 people living downtown today, about double the total before Katrina," Weigle said.
He and others say that what could put still greater momentum behind downtown growth would be the redevelopment of Charity Hospital. "I think redeveloping Charity and the (former) VA Hospital sites are going to be the next step," he said.
But in the view of some developers who have tackled projects on Upper Canal, the city should first pay attention to a more pressing priority -- public safety.
In addition to opening the Jung Hotel, MCC Development plans to renovate the long-vacant hotel at 1630 Canal Street, right next to Claiborne Avenue and the I-10 overpass.
Peter Aamodt, a developer with MCC, said the company some time ago drew up plans to renovate the site into a 200-room hotel, but ran into financing obstacles that stem in part from worries over conditions in the area. "We have had challenges with that end of Canal Street because of crime in the French Quarter and elsewhere, and the homeless population under the interstate," he said.
Noting that MCC's Canal Street hotels would likely serve many people who visit New Orleans for services at the medical center a few blocks up the street, he said that short jaunt will be more complicated than it should be. "As it is, we're thinking we will have to bus people from the hotel to the medical center rather than make them cross under the interstate," he said.
Aamodt believes that MCC will get the 1630 Canal St. project off the ground, and says construction may begin next year. But he says progress throughout the area would speed up if the city would focus some attention on the business environment.
"You're asking a lot for the private developers of these new projects to bear the entire responsibility for public safety in the area," he said.
...
Read more