Communication is key: LSU basketball tries to get on track on defense against UT Martin
Wednesday, 29 November 2017, 11:08:02 AM. When the LSU basketball team gathered Sunday for its first practice since returning from the Maui Invitational, it was back to the drawing board.
When the LSU basketball team gathered Sunday for its first practice since returning from the Maui Invitational, it was back to the drawing board.
More specifically, it was back to the defensive drawing board after the Tigers allowed 92 and 94 points in back-to-back losses to Notre Dame and Marquette to finish 1-2 and in fourth place in the tournament.
To no one's surprise, the emphasis in Sunday's session was defense — and more defense.
"That would be accurate, yep," LSU coach Will Wade said when asked if defense was the focus. "It's been our emphasis for a while now and we have not seemed to get a whole lot better at it. So, it'll continue to be an emphasis."
Getting a better grasp of what Wade and his coaching staff are trying to instill will be the main focus for LSU (3-2) when it goes against UT Martin (1-5) at 7 p.m. Wednesday in the Pete Maravich Assembly Center.
It'll be the last game for the Tigers before an 11-day break for final exams.
The Tigers have been particularly poor with their ball screen defense, which was exposed by Samford in the last outing before the trip to Maui where it was fully exploited by Notre Dame and Marquette.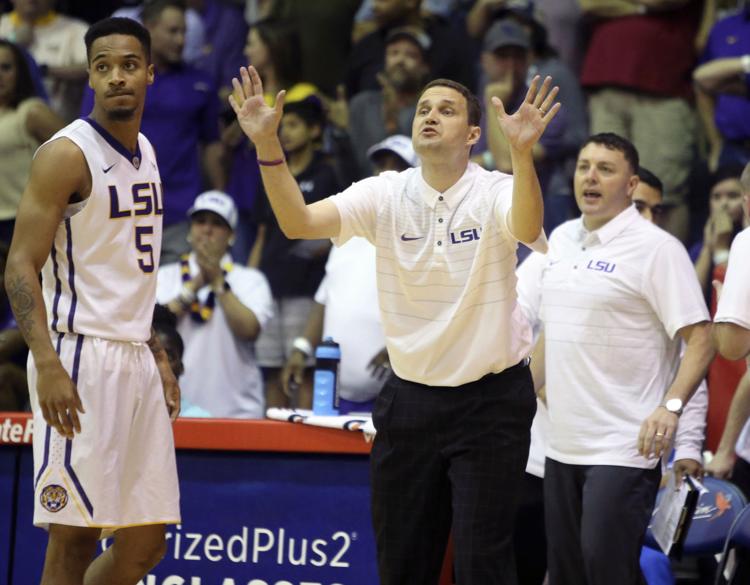 Back to work: LSU basketball laments defensive lapses in up-and-down showing in Maui
Following a long holiday trip to Maui, which yielded a few highs and more than a few lows, the LSU basketball team went back to work Sunday.
"I would say the number one issue is lack of communication," Wade said. "I'd say the number two issue is I've given them too many different coverages. So we're going to simplify what we're doing. That way, everybody knows what we're doing."
Wade pointed out his team's defensive execution was better in a 77-75 win against Michigan in its first game, possibly because they had extra time to prepare instead of less than 24 hours for its next two foes.
"The first half against Michigan was very good," he said. "Everybody knew exactly where they were supposed to be and what was supposed to happen. But the other two (games) were not very good.
"I think if we simplify it, that will hopefully alleviate some of those issues. At a certain point, yeah, you just have to want to do it right. Yeah, we have some guys that need to do a little bit better."
"It's a matter of communicating," guard Skylar Mays said. "Sometimes, the guard has to know that the screen is actually coming.
"With that being said, all of the guards have to do a better job of getting over screens and getting back into the play rather than just sitting on the screen and leaving the big man out to dry (down low)."
Fellow point guard Tremont Waters agreed that communication is one of the issues for the defense.
Paradise lost: Will Wade perplexed by LSU's defensive issues after 1-2 showing in Maui
With three games in three nights at the Maui Invitational, Will Wade learned a lot about his LSU men's basketball team.
"We just have to keep working on it at practice," Waters said. "Everyone has to know their role at the time, why they're on the court. It's about communicating the different calls and everything, just knowing what we have to do."
LSU, which has five weeks to get things straightened out before diving into its Southeastern Conference schedule, can take a step in the right direction against UT Martin.
While the Skyhawks are coming off a 23-win season, their third in a row with at least 20 victories, they've struggled this season offensively — especially on offense.
UT Martin has scored more than 74 points just once in six games and was held to 55 in a 10-point loss to Missouri-Kansas City in its most recent outing Sunday. The Skyhawks are shooting just 44.7 percent from the field.
When asked what he wants to see his team improve on most, Wade said, "ball screen defense, pressure."
"We need to play like we're supposed to play," he said. "I want to see a complete game: We've got to have a beginning, middle and end for it to be a complete game. We need a complete game, so we'll have a good start going into our break."
THE BASICS
WHAT: UT Martin at LSU
WHEN: 7 p.m. Wednesday
WHERE: Pete Maravich Assembly Center
ONLINE: SEC Network+
RADIO: WDGL-FM, 98.1; WWWL-AM, 1350; KLWB-FM, 103.7
UP NEXT: vs. UNC Wilmington, 4 p.m., Dec. 10 (SEC Network+)
Briefly
• After averaging 102.0 points per game in winning its first two contests, LSU averaged just 71.3 in going 1-2 at the Maui Invitational.
• LSU and UT Martin have met four times with the Tigers winning each of those matchups in the PMAC — the last on Nov. 18, 2010 (79-56).
• After winning 22 games a year ago for its third consecutive 20-win season, UT Martin lost 12 players off that team and is struggling at 1-5.
PROBABLE LINEUPS
UT Martin (1-5)
Starters
Pos. Name Ht. Cl. Pts. Rebs.
G Delfincko Bogan 5-10 Jr. 8.3 2.7*
G Matthew Butler 6-2 Sr. 15.5 2.5*
G Parrish Hewitt 6-3 Fr. 4.2 1.5
F Dominique Williams 6-6 Gr. 8.3 5.0
F Fatodd Lewis 6-8 Jr. 12.3 7.5
Key reserves
Pos. Name Ht. Cl. Pts. Rebs.
G Darius Thompson 6-3 Jr. 5.3 1.8
G Kahari Beaufort 6-4 Sr. 4.8 1.8
C Terrence Parker 6-9 Jr. 4.7 4.0
* assists
LSU (3-2)
Starters
Pos. Name Ht. Cl. Pts. Rebs.
G Tremont Waters 5-11 Fr. 20.0 5.2*
G Skylar Mays 6-4 So. 10.6 4.2
G Randy Onwuasor 6-3 Gr. 6.0 2.3
F Aaron Epps 6-10 Sr. F 6.8 1.8
F Duop Reath 6-11 Sr. 11.4 4.0
Key reserves
Pos. Name Ht. Cl. Pts. Rebs.
F Wayde Sims 6-6 So. 7.8 3.4
G Brandon Rachal 6-5 Fr. 6.2 4.0
G Daryl Edwards 6-3 Jr. 3.8 1.6
* assists
...
Read more