Hurricane Nate makes landfall at mouth of Mississippi River; New Orleans area now in tropical storm warning
Sunday, 08 October 2017, 07:53:42 AM. The Hurricane Warning for the New Orleans area and Lake Pontchartrain is now a tropical storm warning as Hurricane Nate makes landfall at the mouth of the Mississippi River, the
The Hurricane Warning for the New Orleans area and Lake Pontchartrain is now a tropical storm warning as Hurricane Nate makes landfall at the mouth of the Mississippi River, the National Hurricane Center said in its 7 p.m. update Saturday.
Hurricane Nate in New Orleans: Powerful storm begins with heavy rain, wind gusts
Update 7 p.m.:
The New Orleans area remained little affected by Hurricane Nate as a 7 p.m. curfew started in the city and the NHC issued a fresh update showing the storm continuing to spin quickly toward the Gulf Coast.
Nate slowed slightly to 20 mph and was making landfall near the mouth of the Mississippi. The center of the storm was about 100 miles south of Biloxi, MS, with maximum sustained winds at 85 mph, a slight decrease from a few hours earlier.
+2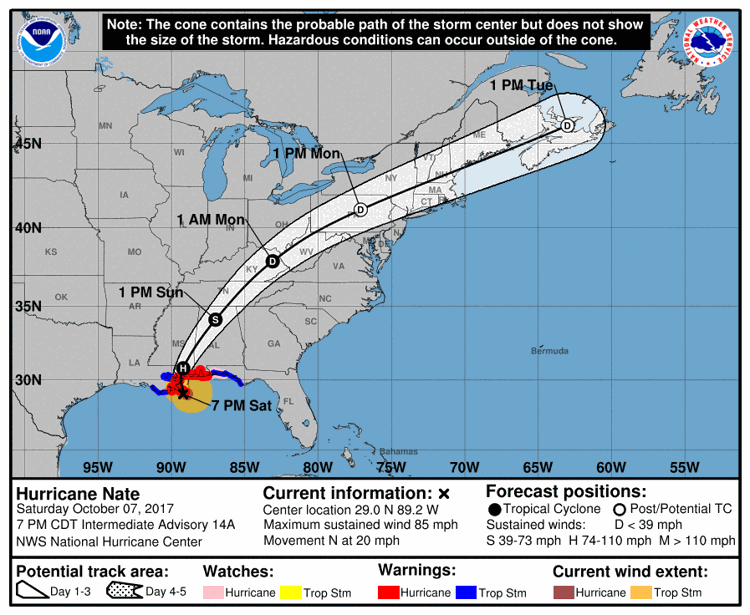 Nate's center was expected to make a second landfall along the Mississippi coast tonight and then pass up through parts of Mississippi, Alabama and Tennessee through Sunday.
Strengthening of the storm "appears unlikely" before it reaches the Gulf Coast, the report said.
A hurricane warning remained in effect from Grand Isle to Florida.
Heavy winds and storm surge, not rain, were the main threats to the New Orleans area.
Can't see the video below? Click here.
---
Hurricane Nate sets record: Speedy storm makes fastest ever move through Gulf, experts say
Hurricane Nate is fast — the fastest, even.
+4
As Hurricane Nate nears, Gov. Edwards urges Louisiana to prep for Category 3, 'offer a prayer'
Gov. John Bel Edwards said Saturday that Hurricane Nate is gaining strength as it moves quic…
Entergy officials urge New Orleanians to prepare for outages 'up to 7 days'
As gusts from Hurricane Nate hit Louisiana's coast, Melonie Stewart, director of customer se…
+13
Wary New Orleanians stock up on food, liquor as strengthening Nate nears
Bill Smith spent early Saturday morning trying to restock the New Orleans Food Co-op, where …
Article Hurricane Nate makes landfall at mouth of Mississippi River; New Orleans area now in tropical storm warning compiled by www.theadvocate.com