On a riverside farm, a wild hog cook-off, a football tailgate, a boost for the Louisiana coast
Wednesday, 15 November 2017, 08:07:51 AM. In the fight to protect the Louisiana coast, seafood is a natural ally. It's easy for Louisiana seafood lovers to grasp the connection between the flavors they love and the
In the fight to protect the Louisiana coast, seafood is a natural ally. It's easy for Louisiana seafood lovers to grasp the connection between the flavors they love and the environment that provides them.
But at an educational farm in Violet this weekend, a new event takes a different tack by showcasing a potentially delicious addition to the regional table that also happens to be a scourge of coast, among other places.
For the Cook-Off for the Coast, a collection of homegrown amateur teams will try their hand at wild hog.
A panoply of local agencies and nonprofits back the inaugural event, and the hope for this edition is that better familiarity with wild hog's culinary potential could drive demand and cull its numbers.
+5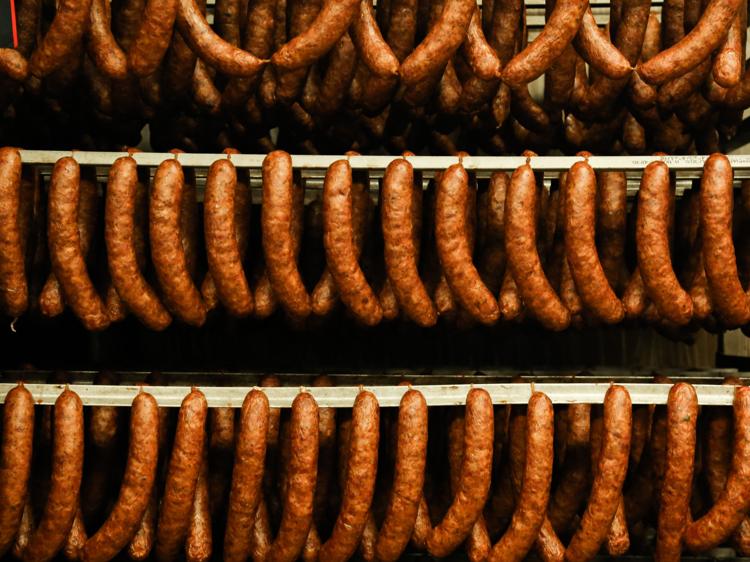 Contributed photo by Beau Ciolino - Wild hog harvested from the Louisiana countryside are used to make Charlie's Wild Boar Sausage, shown here on the smoking racks.
The Saturday cook-off is the centerpiece of a new festival for St. Bernard Parish on Nov. 18 with chef-led cooking demos, live music and interactive education on coastal ecological issues. The setting is Docville Farm, a working farm and event venue along the riverfront in Violet, just past Chalmette, run by the Meraux Foundation.
With the event falling on a big college football Saturday, the Cook-Off for the Coast also has a tailgating theme. There will be a cash bar from the Old Arabi tavern Pirogue's Whiskey Bayou and, of course, the aroma of those cook-off teams in action will be swirling. Admission to the event includes samples of their dishes.
Wild hog is the headliner for this environmentally oriented event because of the trail of damage the invasive species has wrought in the region.
"They're incredibly destructive to coastal ecosystems," said Samantha Carter, an outreach coordinator for National Wildlife Federation, one of the groups producing the event.
The animals ransack crops, and as they root for underground food, their burly snouts can damage delicate coastal marshland. Wild hogs were blamed for an estimated $74 million in damage to Louisiana farms in 2013, according to an LSU AgCenter study. Carter also points out that wild hogs have damaged levee systems as close to home as New Orleans East and St. Bernard Parish.
"We're always looking for fun and new venues to talk about coastal restoration issues, and making the connection between what we eat here in coastal Louisiana and coastal restoration has really resonated," she said.
It turns out this menace of the wild has become a more welcome part of Louisiana menus, thanks to a change in state law and an enterprising local butcher.
Local hunters and trappers have long targeted wild hogs, and sometimes the meat would end up as dishes around the hunting camp. But in 2015, the state created a new inspection system to get wild hog into the commercial marketplace. Charlie Munford, a butcher who supplies restaurants in the region, worked with the state to set up the new process and his small slaughterhouse in rural Springfield is the first in Louisiana to sell wild hog through it.
+5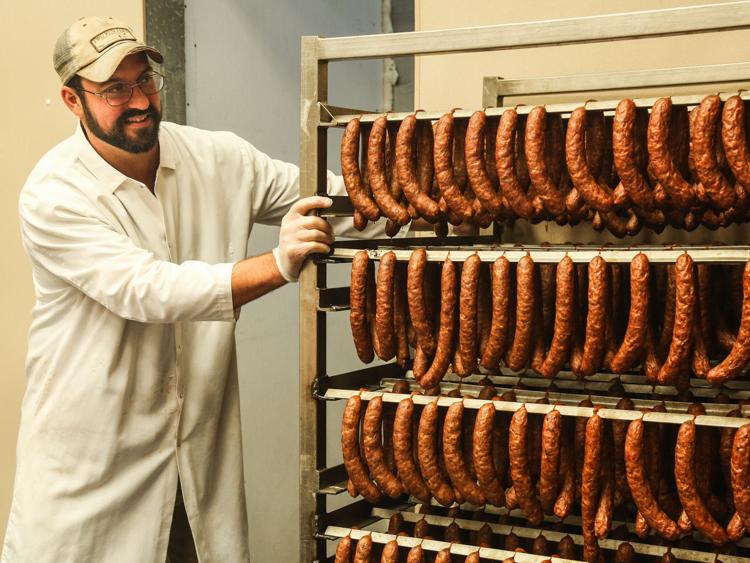 Contributed photo by Beau Ciolino - Louisiana butcher Charlie Munford wheels a rack of sausage toward the smoker at his Livingtson slaughterhouse. His brand, Charlie's Wild Boar Sausage, uses meat harvested from the wild in Louisiana.
Munford buys wild hogs from trappers and turns the meat into primal cuts for restaurants or packaged sausage for restaurants and groceries. Mixed with pork, seasoned and smoked, the links are sold as Charlie's Wild Boar Sausage. In the culinary realm, wild hog is generally called wild boar (though boar technically refers to the male only). Since introducing the sausage last year, it has become the focus of his entire operation.
For Cook-Off for the Coast, he's providing both hog legs and sausage to the competing teams, who will take it from there for their own creations.
+15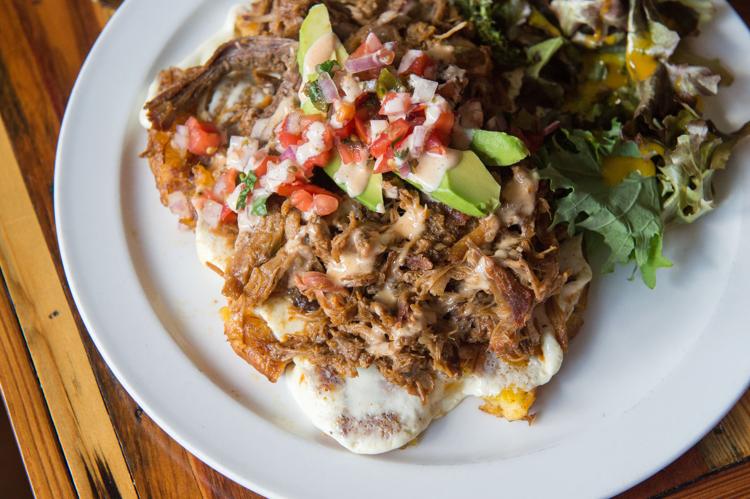 Why wild boar, scourge of countryside, now welcome addition at La. restaurants
From booths at the Oak Street Po-Boy Festival last month, New Orleans restaurants served some head-turning po-boys, from alligator fricassee t…
Wild hogs thrive on forage and roam widely, making these voracious omnivores the epitome of free range. The meat is darker, leaner and more complex and varied in flavor than pork from domesticated hogs. Some chefs in New Orleans have embraced its potential, cooking it in hearty pasta dishes, working it into charcuterie and serving it in place of pork all across their menus.
For the cook-off, expect slow and low preparations and rustic dishes in line with the tailgating tradition of a football Saturday in Louisiana. Some teams even plan to camp out overnight as their wild hog cooks. Judges will pick a winner, and attendees can vote on a people's choice winner after sampling the field.
All of that is music to the ears of Munford, who sees the event as another chance to show how a nuisance in the wild can become a welcome addition to the table.
"People know it's a resource out there, but I still think there's a ways to go in showing people how versatile it can be," said Munford. "It's the most delicious invasive species I can think of."
Cook-Off for the Coast
Docville Farm, 5124 E. St. Bernard Highway, Violet
Nov. 18, 11 a.m. to 4 p.m.
Tickets are $8 in advance, $10 at the door
See coastcookoff.splashthat.com
+3
Crawfish already? Halloween boil no trick, just part of effort to feed New Orleans craze
As kids filled their bags with candy on Halloween, Jason Seither was emptying a few sacks of an unexpected treat at his Harahan restaurant Sei…
+13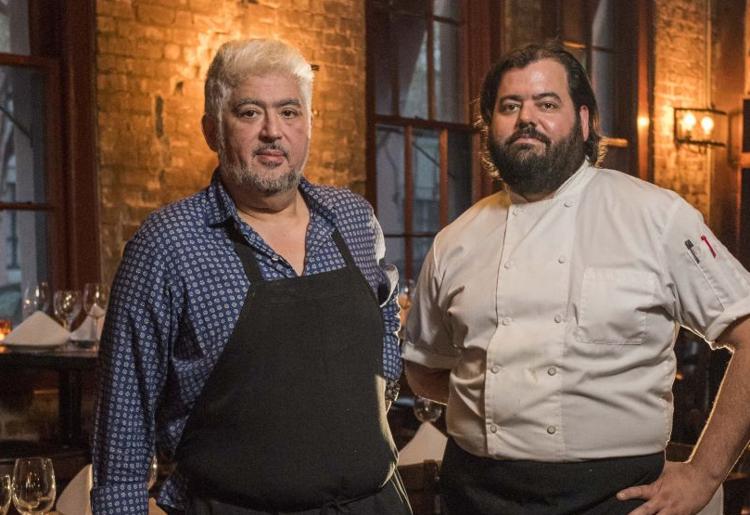 With change ahead at La Boca, New Orleans chef Adolfo Garcia is back in the kitchen
For Adolfo Garcia, running restaurants for the past few years has meant meetings with business partners and chefs, decisions about launching —…
...
Read more