Why Wm. Mulherin's Sons building reflects Fishtown's boozy boom
Thursday, 16 November 2017, 04:48:31 AM. The arched windows on the facade are reminiscent of a more elegant time, and its position under the El is a reminder of the city's expansion.
Though a neighborhood originally built on its fish market, pulling its namesake from the Delaware River, Fishtown has been revived by booze and food into one of Philadelphia's hottest neighborhoods.
Fishtown was dubbed in 2015 "Philadelphia's poster boy for revitalization of a formerly working-class neighborhood by educated and creative-class millennials" by Kevin Gillen, an economist with Drexel University's Lindy Institute for Urban Innovation.
Seen as an affordable alternative to Center City, it's a vibrant real estate market, with new construction and renovated properties in high demand. The median home price in the 19125 zip code, which includes Fishtown and parts of Kensington, was $278,700 in the third quarter of 2017, according the latest data collected by Gillen.
That's nearly 30 percent higher from the same time last year, and a surge of nearly 122 percent from one decade ago, when the median price of a home in the zip code was $125,660. In the third quarter alone, there were 192 sales of single-family homes.
New residents are coming not just for the homes, but also the nightlife. While young people started moving into as early as the mid-1980s, the riverward neighborhoods' renaissance truly started in the early 2000s with the opening of the bar Johnny Brenda's, at Frankford and Girard Avenues.
In recent years, it has seen the arrival of the El Bar, Frankford Hall, Kensington Quarters, Evil Genus Brewery, and most recently, Garage, Root and Philadelphia Distilling and Bluecoat American Gin, which took over at the site of the former Ajax Metal Co.
And, of course, there's Wm. Mulherin's Sons, which is now a high-end restaurant but was designed as a whiskey distillery.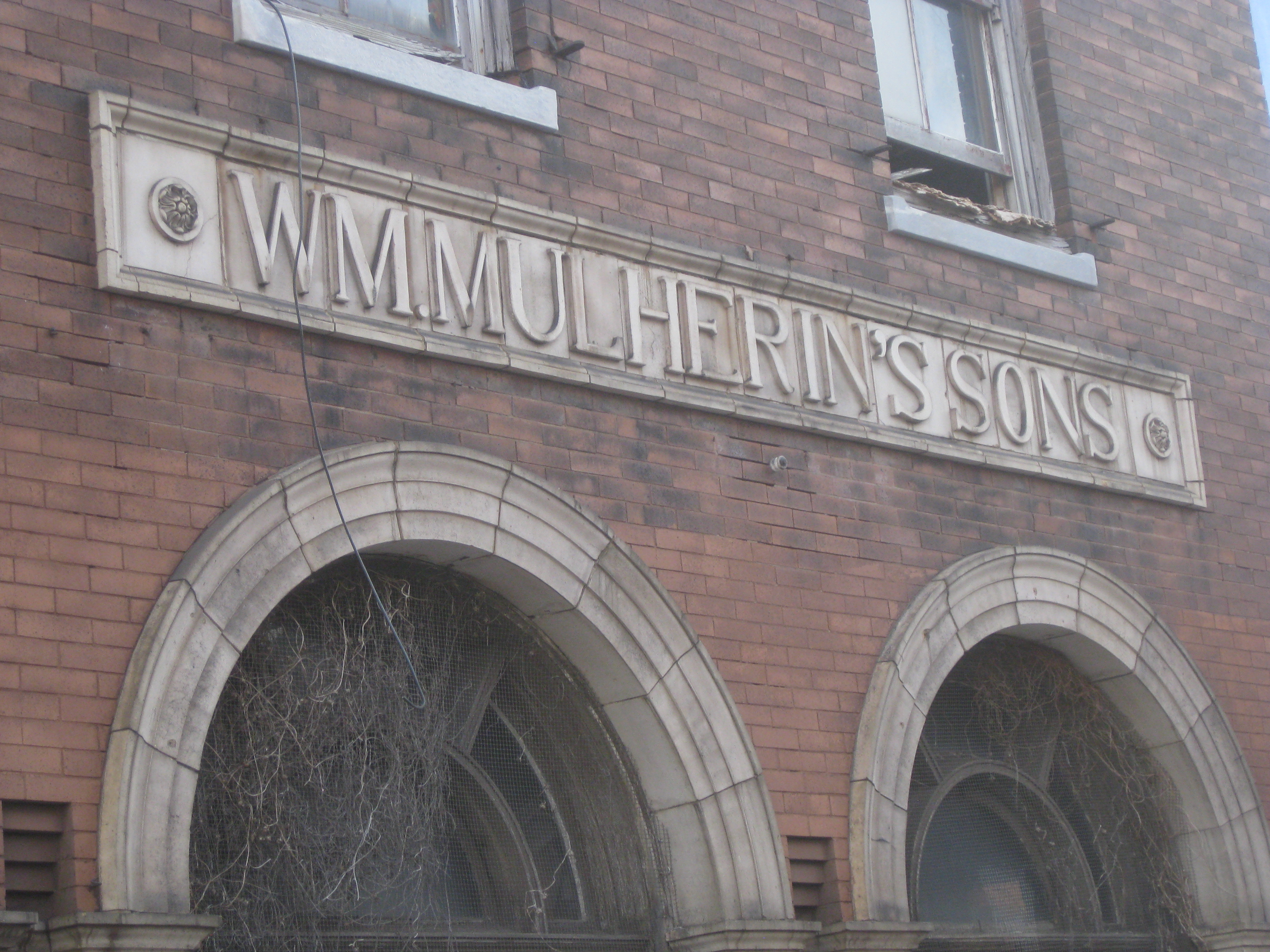 OCF Realty The long-vacant Wm. Mulherin's Sons, 355 N. Front St., before it was refurbished in the mid-2010s.
The Mulherin's building, whose fortunes have risen and fallen along with the neighborhood's, helps tell the tale of the area's resurgence into a destination. Let's take a look back at how it all got started.
1887
During the late 1800s, before Prohibition, the population of the River Ward neighborhoods grew with the influx of European immigrants.
And William J. Mulherin began blending liquor at North Front and Master Streets. Its products were picked up by horse and buggy and carried as far south as Maryland.
The native Irishman emigrated to the United States in 1863 and settled in Philadelphia in 1869, where he and his wife, Mary, had six children, according to a history compiled by the restaurant.
After serving as an apprentice for several Irish liquor dealers, Mulherin, then 39, opened his own distillery in 1887. He called it William J. Mulherin Co. When his sons J.E. Mulherin and A.P. Mulherin joined him in 1899, he renamed the company Wm. Mulherin & Sons.
"Mulherin & Sons were importers, compounders, distillers and rectifiers with interests in the Mutual Distilling Co. of Uniontown, Ky., and the Philadelphia Rye Distilling Co. of Eddington, Pa.," according to pre-pro.com, a history website dedicated to the era just before Prohibition.
1900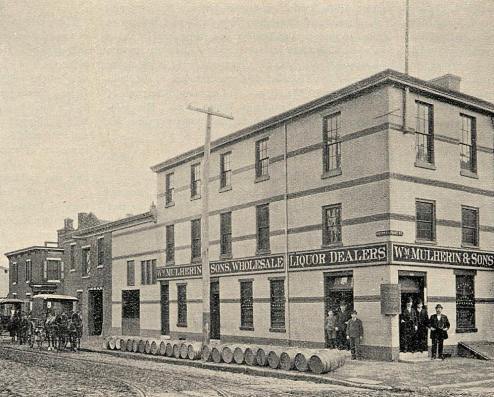 Philadelphia, Old & New Photograph from "Philadelphia, Old & New", ca. 1895, featuring the business premises at Front and Master, Wm. Mulherin's Sons.
As fabric and textile mills began sprouting up, and shipyards and terminals lined the Delaware River waterfront, Mulherin moved his business into a brick building at the southeast corner of Front and Master Streets. The building is still recognizable today for its original stone sign baked into the facade that reads "W.M. Mulherin's Sons." This would be the site's final location, according to the restaurant.
According to "Philadelphia Old and New," the building at 1355 N. Front St. was a three-story brick building with an area of 20 feet by 144 feet. The company, which brewed whiskey on location, used names such as "Private Club Pure Rye," "Winner," and "Winner Pure Rye," and sold its booze in-state, as well as up and down the Northeast corridor, according to the pre-pro website.
1913
William Mulherin died at age 65, and a year later, the company changed its name for the final time to the name we know today, Wm. Mulherin's Sons.
In 1916, the construction of the Market Street El began along Front Street. The company's fortunes began to slide when Prohibition began in 1920. It closed in 1924 and did not reopen when Prohibition ended in 1933.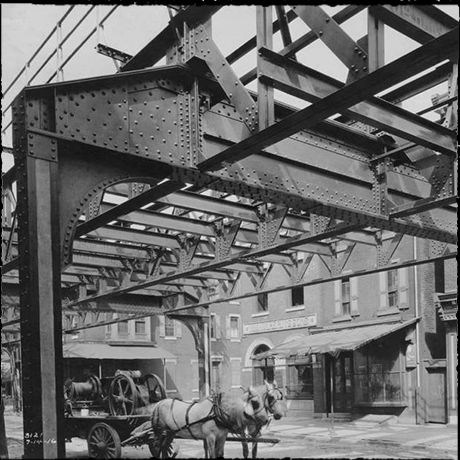 Wm. Mulherin Construction began on the Market-Frankford El along Front Street in 1916. In the background is Wm. Mulherin's Sons, 355 N. Front St., Philadelphia.
The long-vacant building, built to serve the needs of a growing city, became emblematic of the neighborhood. It fell into disrepair for almost a century. The arched windows on the facade are reminiscent of a more elegant time, and its position under the El is a reminder of the city's expansion.
2014-2017
Interest in the building resurfaced following the painting of the "Wakin' on a Pretty Daze" mural on the side of the building by Philadelphia street artist Steve Powers. It featured images and words from a 2013 Kurt Vile album.
In 2011, according to OCF Realty, the property received a zoning variance for a coffee shop on the first floor and four apartments up top. In March of that year, another variance was granted for a roof deck. The building then went on sale with a price of just under $400,000. It was purchased in July for $330,000, according to the realty group.
Since then, it has become is a game-changer.
The building's restoration was a team effort by developers David Grasso and Randy Cook and their chef-partner, Chris Painter.
The restaurant serves modern Italian cooking to guests spread out through three rooms, each outfitted with a blend of exposed brick and timber ceilings.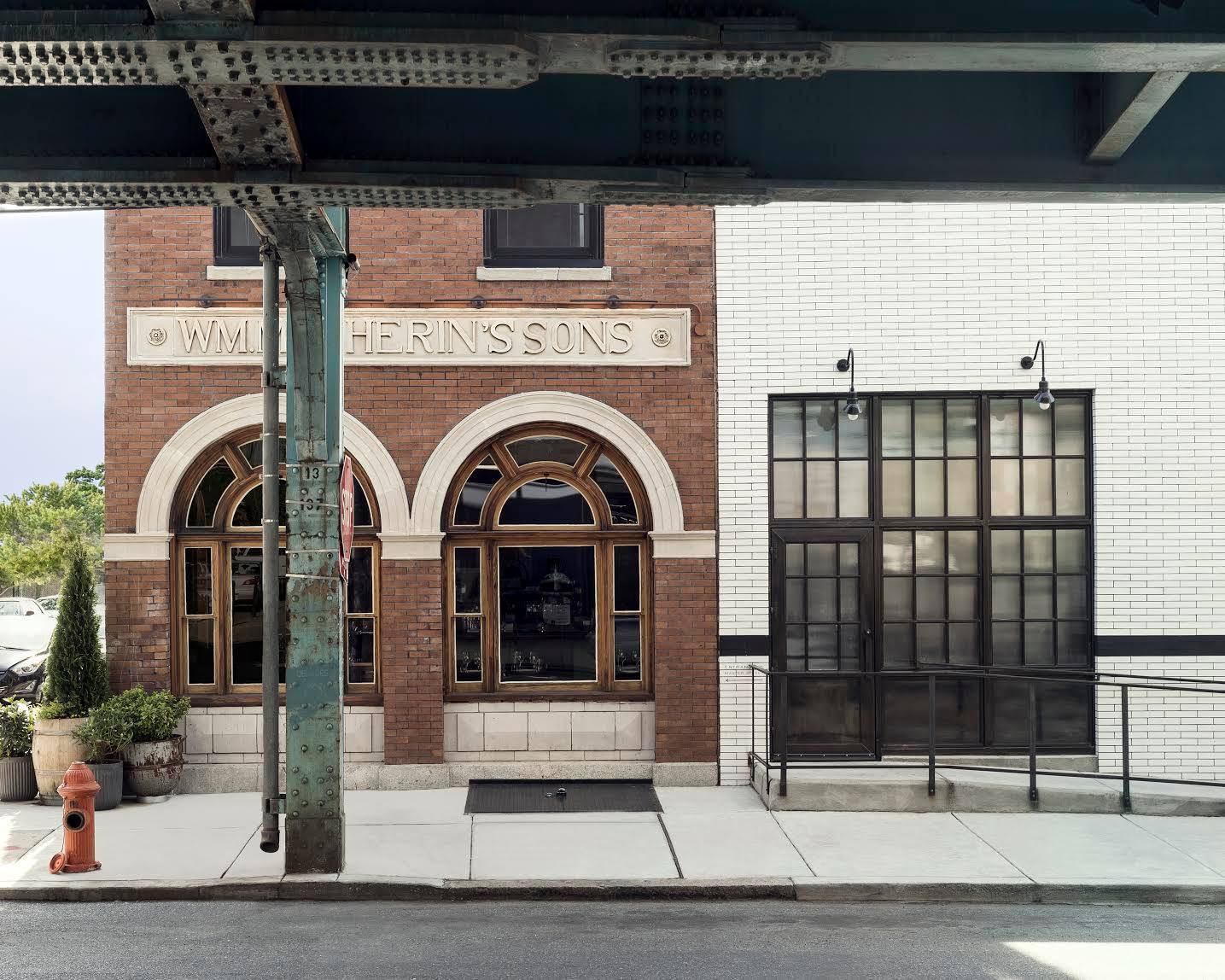 Wm. Mulherin Wm. Mulherin's Sons, 355 N. Front St., Philadelphia.
"It was incredible that so much of the original details from when it was a whiskey business were still there," Grasso said. "So we were able to restore those things and fill in the gaps, which led to this larger identity for Mulherin's."
Shortly after the restaurant opened in March 2016, it was named by Bon Appétit magazine as one of the 50 best new restaurants in the United States.
Staff writer Caitlin McCabe contributed to this article.
More Coverage
We asked Philly parents to send us photos of their kids on Halloween. Here's what we got


Nov 1 - 1:04 PM
We encourage respectful comments but reserve the right to delete anything that doesn't contribute to an engaging dialogue Help us moderate this thread by flagging comments that violate our guidelines Commenting policy | Comments FAQ
Comment policy:
Philly.com comments are intended to be civil, friendly conversations. Please treat other participants with respect and in a way that you would want to be treated. You are responsible for what you say. And please, stay on topic. If you see an objectionable post, please report it to us using the "Report Abuse" option.
Please note that comments are monitored by Philly.com staff. We reserve the right at all times to remove any information or materials that are unlawful, threatening, abusive, libelous, defamatory, obscene, vulgar, pornographic, profane, indecent or otherwise objectionable. Personal attacks, especially on other participants, are not permitted. We reserve the right to permanently block any user who violates these terms and conditions.
Additionally comments that are long, have multiple paragraph breaks, include code, or include hyperlinks may not be posted.
Load comments
...
Read more